Family tavern "Giannis Family"
The tavern is located near the central square of Matala and offers a wide and rich variety of traditional and seafood dishes and appetizers.

Since 1990, the tavern Giannis Family proves in practice that the area has much more to offer than mere 'touristic' options.
Food here is always tasty, perfectly cooked, of high quality and close to the tradition, attracting thus all ages seeking authentic tastes.

Everyday we serve tasty dishes, cooked or grilled, fresh fish and seafood, all prepared with love.



About Matala
In the ancient times, Matala served as town-port of Phaistos and later of Gortys, as well as during the Roman years from the conquest of the Roman Empire in 67 B.C. up to the final destruction of all the seaside sites, populated by the Saracene pirates during the 8th - 9th century A.D.
.
The blue color of the sea along with the red color of the horizon at sunset time create color combinations that provoke to unique emotions.

The wonderful cove of Matala is considered as one of the best beaches of Crete.
Further south of Matala, there is a huge rock formation, known as the rock of Theosyni, that offers a panoramic view of Messara bay.

The rock protrudes from the sea and a natural, marine cave has been formed throughout the years, named 'Kouroupi'.


Attractions of the area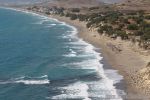 Kommos (Komos) is one of the most beautiful and largest sandy beaches of south Crete which extends f...
Phaistos was one of the most important centres of Minoan civilization, and the most wealthy and powe...
The beach of Agiofarango ("the gorge of the saints" in greek) is found at the exit of the homonymous...
Moni Martsalou has taken its name from the canyon Martsalos, which is about 2 kilometres long and en...